Home
»
Special Sale
»
Boulevard Nights Wild Carnation Spring Dress - L & 2XL left only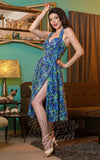 Boulevard Nights Wild Carnation Spring Dress - L & 2XL left only
$155.00 CAD
W
e are in love with this purdy blue fabric inspired by a true vintage carnation print! Perfect for spring/summer soft flowy chiffon halter dress with fitted bodice and full skirt with side slit and pockets!
We checked the waist..the size XL is 34" flat measured, other sizes graded by 2" up or down - NO STRETCH
Material: Poly woven Chiffon
Waist to hem approx 28"
Care Instructions: Machine wash hand or gentle cycle air dry