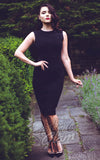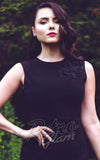 Katakomb Black Sophia Wiggle Dress - M only
$99.00 CAD $129.00 CAD SALE
The pretty & elegant Sophia is a perfect lil lbd.  High round neckline, floral appliqué adorned with beads coming down from one shoulder and a curve-hugging fit. Hidden back zipper. 
Note: This dress is from our old store stock and has been in storage so needs a good steam or iron as may many of our dresses packed flat..reflected in price. 
Dress has some stretch

Size S Bust 36-38, Waist 28-30, Hips 38.5-41
Size M Bust 38-40, Waist 30-32, Hips 40-43.2
Length just over 41"
Fabric: Sturdy ponte with some stretch - 67% rayon, 29% nylon, 4% elestane