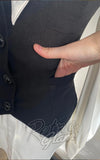 Katakomb Vera Vest in Black - S left only
$75.00 CAD $95.00 CAD SALE
We've always been in love with menswear inspired pieces and the Vera isn't letting us down.  A versatile piece, this vest can dress up any look with its sharp lines and dramatic waist cinch. Floral buttons add a dainty touch to the piece with functional pockets for your small goodies Wear the Vera Vest alone, or pair it with any of our blouses or even a tee. Katakomb palazzo pants are available separately!
Size chart is in photos in FLAT MEASUREMENTS and the vest has apx 4-5" stretch. For not much button pulling you may want to add only 2-3 inches to size chart for not much button pulling. IE if size chart says 36.5" it will fit up to at least 38.5" 
Fabric: Bengaline 95% polyester, 15% spandex quite a bit of stretch
Cold Water Wash & Hang to Dry.