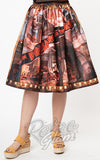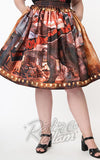 Unique Vintage X Jurassic Park When Dinosaurs Ruled The Earth Swing Skirt - S left only
$62.00 CAD $119.00 CAD SALE
Unique Vintage X Jurassic Park When Dinosaurs Ruled The Earth Swing Skirt!
Create some thrills in this beautiful swing skirt from Unique Vintage featuring the infamous scene of the iconic T-Rex from Jurassic Park, set in a gorgeous 35mm film print. 
Banded high waist, complete with side zipper and button to nip in your figure with hidden side pockets for your goodies!
100% Polyester, no stretch
Crinoline added for volume, sold separately.
Model Pictured Wearing Size M; M Length 26"
Model Info: Height: 5'7" | Waist: 28" | Hips: 40" | Bust: 34DD
Model Pictured Wearing Size 1X; 1X Length 27"
Model Info: Height: 5'10" | Waist: 38" | Hips: 47" | Bust: 42"