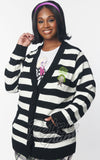 Unique Vintage X Beetlejuice Striped Cardigan
$99.00 CAD $132.00 CAD SALE
The Ghost with the most! This adorable Beetlejuice cardigan sweater from Unique Vintage is crafted in a black and white striped polyester knit. T
he oversized style has black trim on the V neckline, down the front button up, pockets and bottom. Cute Beetlejuice patch just makes it more special and spook-tacular.
Imported
100% Polyester
Hand Wash, Flat Dry
Unlined, Button Up
Side Pockets
Material Has Stretch
Model Pictured Wearing Size XL/1X; XL/1X Length 30"
Model Info: Height: 5'9" | Waist: 35" | Hips: 46" | Bust: 38"
Size chart is for guidance only as cardigan is meant to be oversized fit. Plus the item has stretch due to it being a knit :) 
Side Pockets
Material Has Stretch
Model Pictured Wearing Size XS/S; XS/S Length 30"
Model Info: Height: 5'9" | Waist: 26" | Hips: 36" | Bust: 32B
Model Pictured Wearing Size XL/1X; XL/1X Length 32"
Model Info: Height: 5'10" | Waist: 38" | Hips: 47" | Bust: 42