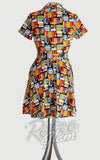 Eva Rose Mini Shirt Dress in Book Print
$119.00 CAD
The Eva Rose Mini Shirt dress in this colourful book print is the dress for book lovers! This style is a a shorter length than the other ER shirt dresses for a lil more sass! Classic shirtdress style with a notched collar, button down placket, short sleeves and a skirt with pockets. Belt loops and a self fabric tie included also. 
NOTE: In the Mini shirt dress style it's junior sizing from s-xl, sizes above are regular Eva Rose size chart so please go by sizing below:
Bust/hips/waist
Small: 35"/27"/ 33"
Medium: 37"/29"/ 34"
Large: 39"/31"/ 34"
X-Large 41"/ 33"/34"
XX-Large 44"/38"/41"
1X-Large 46"/40"/41"
2X-Large 48"/44"/42"
Made in the USA

97% Cotton, 3% Spandex