Home
»
Curvy Gals
»
Rebel Love Roman Holiday Tulle Swing Dress - Pre-Order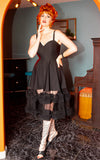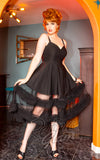 Rebel Love Roman Holiday Tulle Swing Dress - Pre-Order
$185.00 CAD
ETA SEPT 30-OCT 10 From designer Elle Rebel. Step into the timeless allure of "The Roman Holiday Dress," a classic LBD that'll have you feeling like a true Hollywood starlet! Sweetheart neckline, paired with adjustable straps and a whimsical full 3/4 circle mini skirt adorned with an attached boa tulle bottom. The soft and stretchy bengaline fabric ensures you'll be comfortable as you twirl and sway! 
FIT NOTE: SIZE DOWN FOR A FITTED LOOK AS IN PHOTOS..THE FABRIC HAS HIGH STRETCH 3-4" ABOVE SIZE CHART.
Fabric: Rayon/Nylon/Elastane high stretch, 3-4 inches available, size down if you pretty a more fitted look or feel to your dresses.